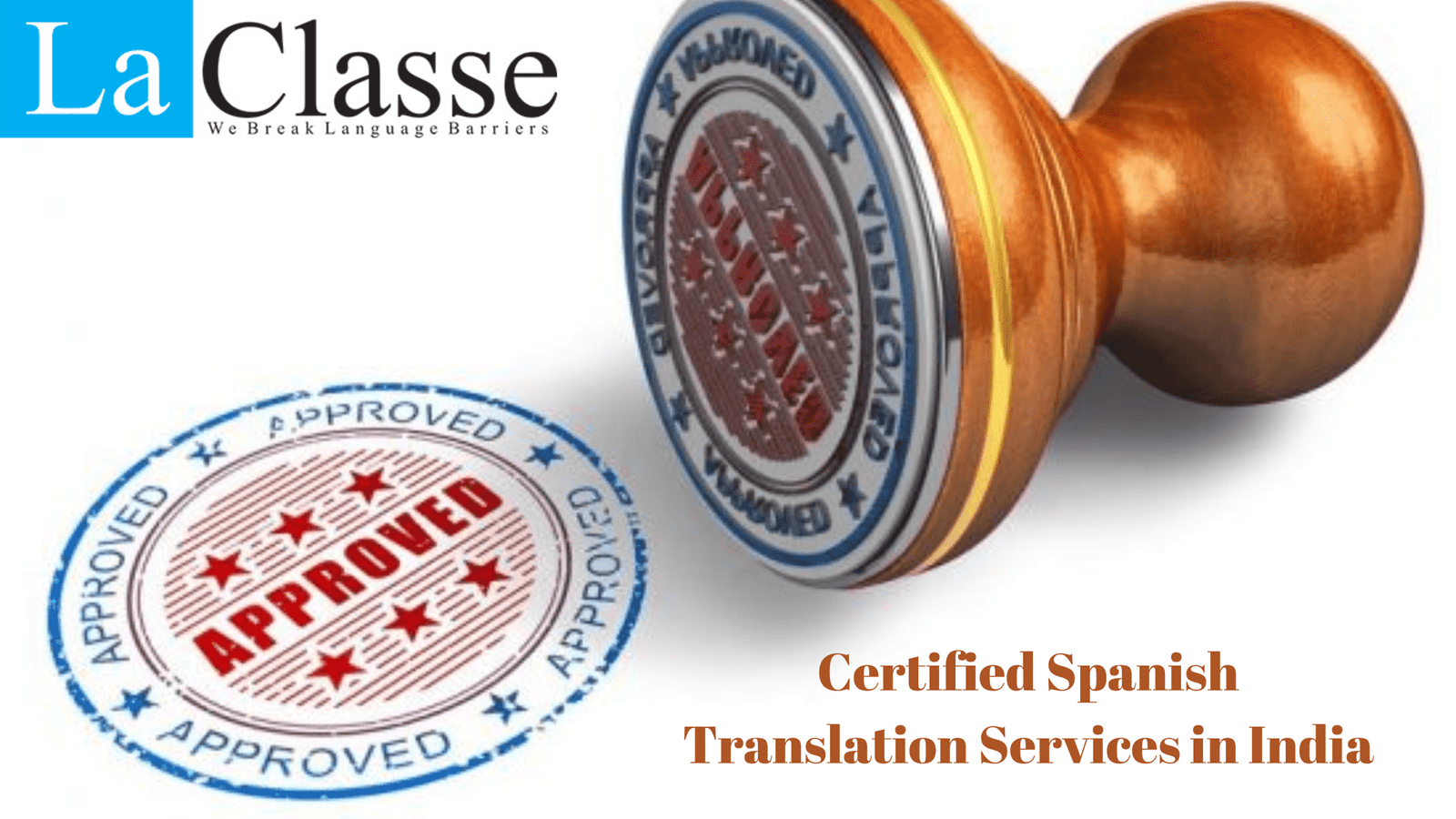 The Spanish language developed from the dialects of ancient Vulgar Latin during the ninth century. Romans brought Latin to Iberia during the 2nd Punic War about 220 BC. During the time when the language was brought to Iberia, it benefited from the linguistic influence of Celtiberian, Basque and Paleohispanic languages, which were identified as native Iberian languages.
La Classe offers professional and accurate Spanish Translation Services across India. We provide complete Spanish translation for companies, community, government, organizations, and individuals. We offer our Spanish translation services for legal, pharmaceutical, medical, business, software, contract providing a highly precise, and error free translation.
Certified Spanish Translation Services in India
Translating Any Industry with Certified Translators
With certified translations, you will receive a certificate of authenticity – at no cost to you! If you need apostille translations for international travel, we can provide notarized translations for your university.
Our Certified Translation Services Include:
Birth certificates, divorce certificates, marriage certificates, death certificates
Graduation certificates, diplomas, and certificates for courses
Custom documents
Licences, citizenship cards, passports, ration cards, visa copies, and residence permits
Statements of bank accounts, tax receipts, TDS certificates, certificates of experience, and salary certificates
Utilities (electricity, landline, mobile phone, credit card, etc.)
Documents relating to land (registration, 7/12 extracts, or RTC extracts)
Deeds of sale, partnership deeds, and wills
Medical records, prescriptions
Translators in India Who Are Certified
Translated by top-notch translators with extensive experience, certified translations carry considerable legal weight in India and abroad. Certified translation services are provided by highly qualified and experienced translators who government agencies license.
All government offices, universities, embassies, and courthouses accept documents translated by our experts. Providing translation services in over 100 commercial languages and 400+ language pairs worldwide through our progressive translation specialists and subject matter experts (SMEs).
In addition to providing top-quality products, we make sure that the output is also reasonably priced. Aside from Indian languages, we offer translation services for foreign languages such as Spanish, German, French, Japanese, Chinese, Russian, Italian, Portuguese, Korean, and Persian. La Classe offers Certified Spanish Translation Services in India and localization services in Indian languages as well as English and other languages.