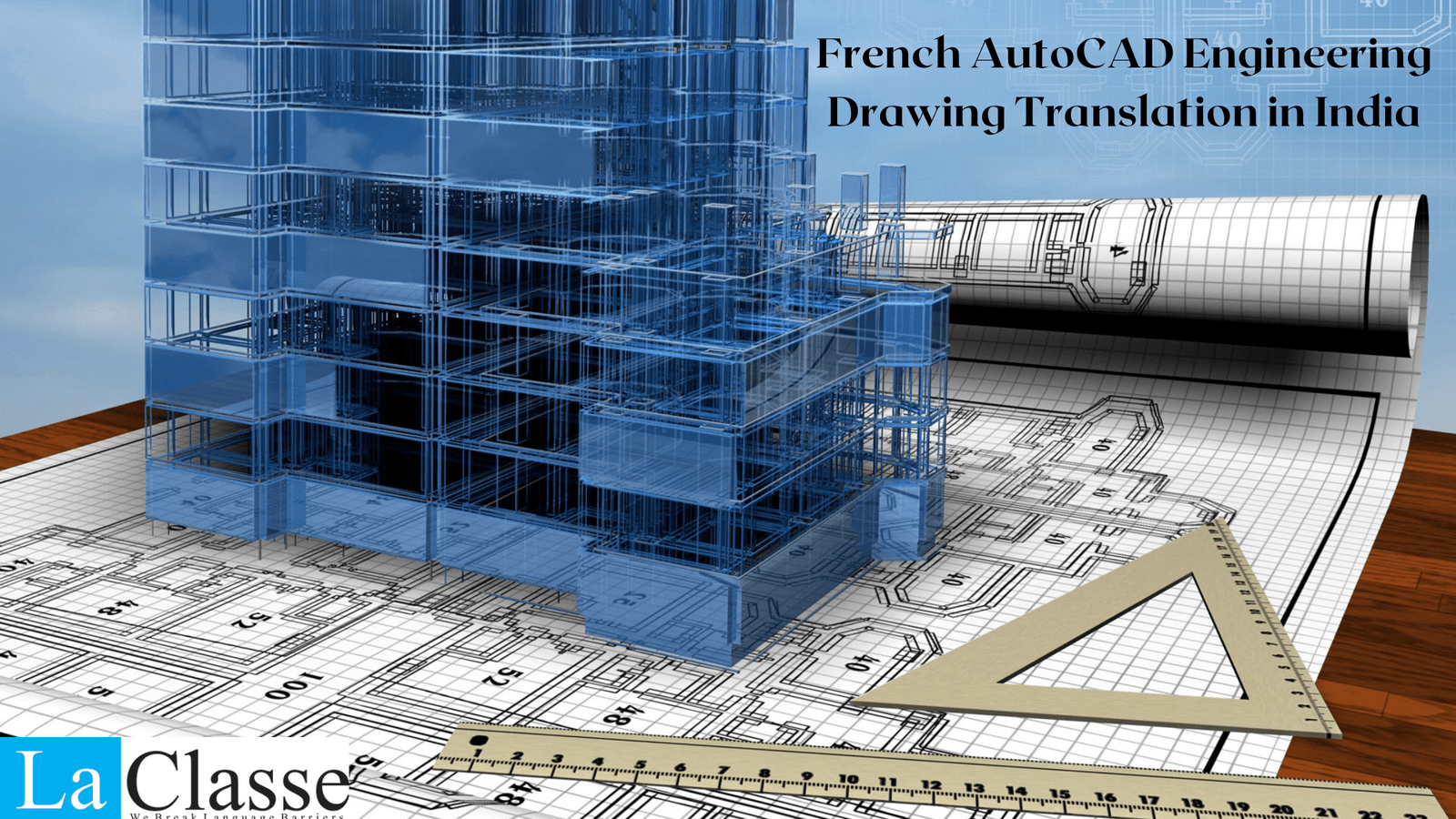 French AutoCAD Engineering Drawing Translation in India
Nowadays, pen and paper have been swiftly replaced by modern technology like computers and design software like AutoCAD. During the past generation, the only way that architects and engineers illustrated their ideas and visuals was by drawing them out by hand. With digital designs, any idea can be brought to life much quicker and more efficiently. But since globalization has been on the rise, you can find professional French AutoCAD Engineering Drawing Translation to convey your messages in the preferred language.
French is the national language of France. In addition, it is a Romance language. With 120 million native speakers and 52 million second language speakers, French is one of the most spoken languages in the world. Not to be forgotten, it plays a key role in European business markets. The French language is also spoken by the people of Belgium, Brussels, Monaco, Switzerland and Wallonia. There are also French speakers in Acadia and Quebec, but with a little difference in dialect. A different dialect of French can make non-French speakers confused.
For that reason, LA Classe provides French interpretation services. In addition to their ability to differentiate between dialects, our native French translators are also qualified to produce excellent French translations. Any European language translation is available from us at any time.
How Translation Companies Do AutoCAD Translation?
Usually, businesses involved in architecture, industrial design, engineering, and manufacturing need translation for AutoCAD drawings. Teamwork and communication between the translation project company and the client are necessary for such projects. If you want to translate your CAD and other images formats such as jpg, png, gif, pdf, GMP, etc., ensure to hire professionals like La Classe Translation with rich experience in French AutoCAD Translation Engineering Drawing.
Furthermore, reliable French AutoCAD Translation Engineering Drawing is a complex task that needs tremendous know-how of both the original and target language. It's a demanding task that requires total understanding, expertise, and proficiency with AutoCAD and image editing software utilized by the translator.
Consult Trusted Experts For AutoCAD Translation Engineering Drawing
Today, you can easily find well-skilled translators and up-to-date with technical jargon and translation requirements to cater to different needs. Thus, they can easily edit and copy the AutoCAD file's text parts. Moreover, experts who offer professional French AutoCAD Translation Engineering Drawing ensure to perform QA and check the visual appearance before delivering the file to the client. The translation memory is saved to ensure all the projects for the same client are handled efficiently and consistently.
Creating Translation-friendly AutoCAD Drawings
During the AutoCAD drawings, the labels and notes on the drawing extend when translating. Reliable practices for translation for drawings recommended listing the content for notes individually and employing numbers in the drawing to relate to the corresponding text.
Another step taken is to work with the language partner and create a list of terminology to be translated before the actual translation process starts. Most professional French AutoCAD Engineering Drawing Translation in India experts use tools to automate part of this process, and then have the terminology translated by a skilled expert before starting the project. Moreover, a bilingual glossary is incorporated to produce a term base in the translation tool. So, whenever the source terms surface, the translator will be modified.