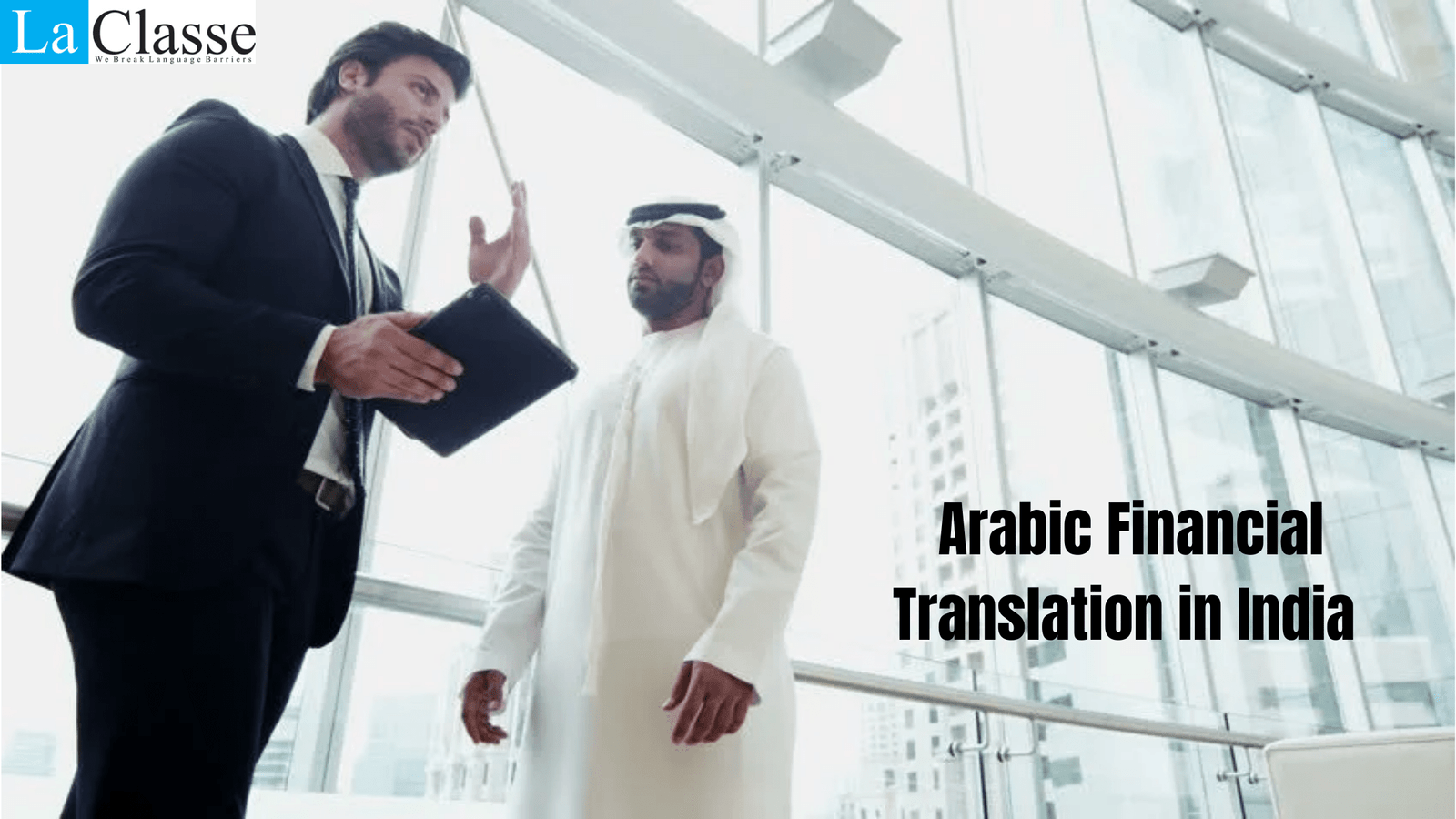 Arabic Financial Translation in India
The significance of Arabic language in the world necessitates Arabic translation around the world. Every month, most tourists and business people travel to the Arab world. All Arab countries use Arabic as the official language as well as the language of the Islamic faith. Languages like Spanish, Malayalam, Urdu, Persian and Baluchi are from Arabic, which is an ancient language. It is likely you will find words that are identical to those in Arabic Translation if you are familiar with any of the languages listed above.
At La Classe, we understand exactly what our customer's need in terms of Arabic translation. Translations of medical, legal, and legal documents are performed by our Arabic native translators all around the world.
Importance of Arabic Financial Translation
Globalization and the blurring of boundaries of all kinds are embodiments of the 21st century. Physical spaces no longer constrain businesses and commercial ventures, and cross-border relationships are peaking right now, thereby solidifying the importance of localization. It is an undeniable fact that localization and translation are two sides of the same coin, and one is incomplete without the other.
The road towards success in the global business domain implies wholeheartedly embracing financial translation services. Whether you are the country's top accounting firm engaged in international audits or taxation or an investment bank dealing with overseas mergers and acquisitions, a trustworthy and competent Arabic Financial Translation in India like La Classe Translation can provide you with the optimal translation solutions of the highest accuracy and speed.
Top Four Reasons Why You Need a Arabic Financial Translation Company in India
Specialization – Institutions such as banks, insurance companies, auditors, and accounting firms require professional translators who have impeccable bi-lingual competencies, in-depth knowledge of accounting rules, regulations, and principles, and are acquainted with financial terminologies. Finding experts with specialized skills is only possible by hiring a professional financial translation company.
Security – Confidentiality is one of the critical requirements of any financial institution, be it a bank or a private equity company. Therefore, hiring someone who follows the best practices for secure, sound, and top-notch financial translations is essential. Thus, an accredited financial translation company in India like La Classe Translation is aware of the privacy and security-related accountability that they owe to their clients.
Localized Legal Requirements – A professional financial translation company ensures that all the financial documents are in harmony with legal mandates, relevant regulations, and localized accounting practices. Accounting methods and financial vocabulary vary from region to region, and thus, understanding and executing the differences that come while translating a financial document is the pillar of success.
Comprehensive Services – A reputed financial translation agency is the one-stop destination for all the translation needs of financial institutions. They deal in a wide assortment of financial documents such as –
Audit reports
Income reports
Disclosure Agreements
Financial Statements
Investment Policies and proposals
Legal contracts
Bankruptcies
Credit card payroll
If you have any doubt related to the Best Arabic Financial Translation in India Then contact with the La Classe Translation and you can call us on these given numbers; +91-9958298424 or 011-43048424; Mail ; manohar.roshan@laclasse.in