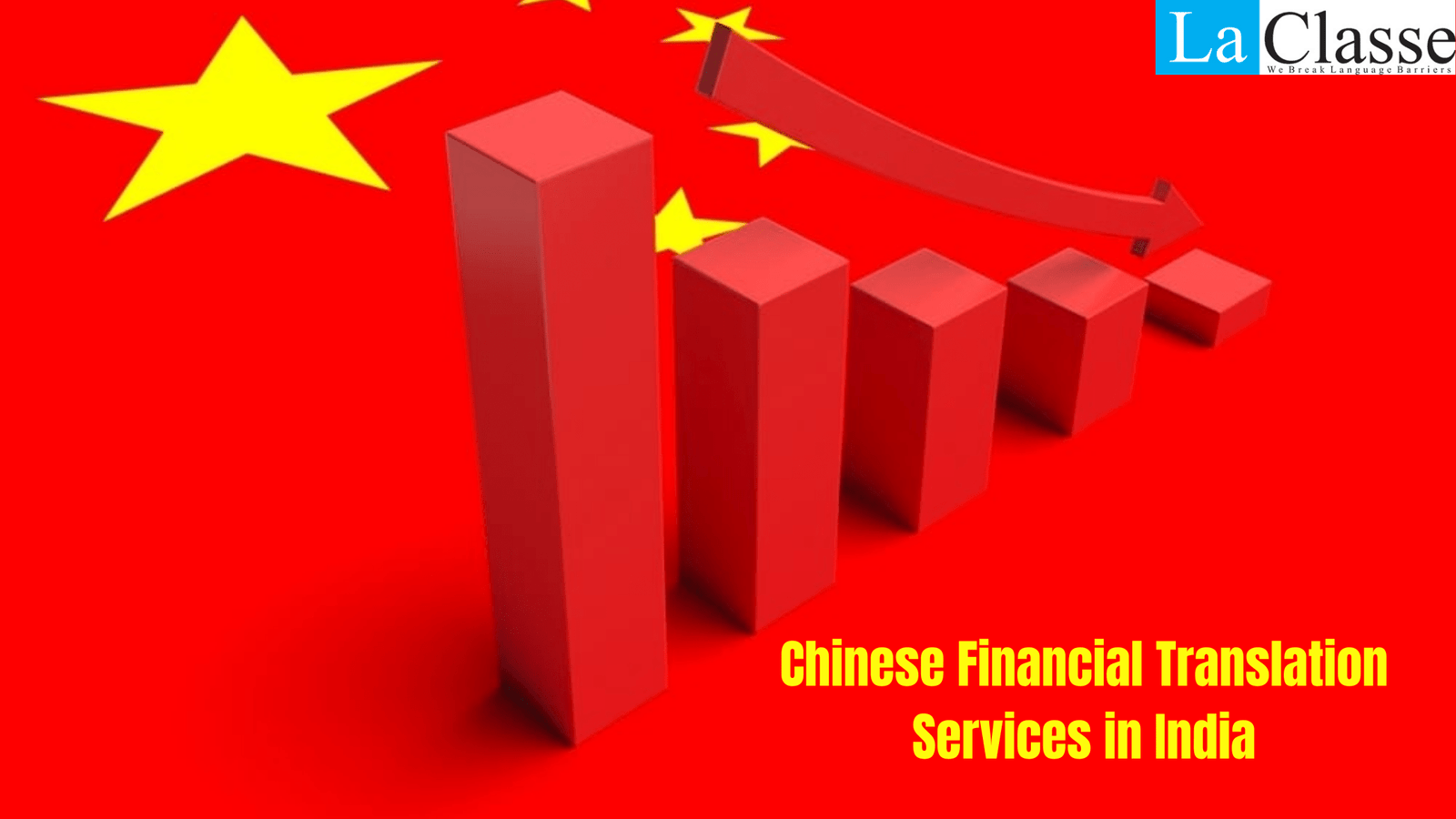 La Classe offers Chinese translation and Chinese transcription services. Chinese is a unique and complex language. Writing and speaking Chinese can be quite complicated. Although spoken Chinese has developed rapidly, written Chinese has not made the same progress. Beijing dialect contributed greatly to making Mandarin Chinese the standard language of spoken Chinese. Singapore and the Republic of China both use Standard Chinese as their official languages. It is also used by the UN (United Nations) as one of their official languages.
La Classe offers professional and accurate Chinese Translation Services across India. We provide complete Chinese translation for companies, community, government, organizations, and individuals. We offer our Chinese translation services for legal, pharmaceutical, medical, business, software, contract providing a highly precise, and error free translation.
Chinese Financial Translation Services in India
Globalization and the blurring of boundaries of all kinds are embodiments of the 21st century. Physical spaces no longer constrain businesses and commercial ventures, and cross-border relationships are peaking right now, thereby solidifying the importance of localization. It is an undeniable fact that localization and translation are two sides of the same coin, and one is incomplete without the other.
There are Some Reasons of Chinese Financial Translation Services
Specialization
Security
Localized Legal Requirements
Comprehensive Services
Audit reports
Income reports
Disclosure Agreements
Financial Statements
Investment Policies and proposals
Legal contracts
Bankruptcies
Credit card payroll
In a world characterized by change, financial services are upgrading at a mind-blowing speed. The rise of the digital economy, the emergence of novel business models, and the increasing influence of FinTech mean that the demand for agile and dynamic financial translation services is at an all-time high.
The road towards success in the global business domain implies wholeheartedly embracing financial translation services. Whether you are the country's top accounting firm engaged in international audits or taxation or an investment bank dealing with overseas mergers and acquisitions, a trustworthy and competent Chinese Financial Translation Services in India like La Classe Translation can provide you with the optimal translation solutions of the highest accuracy and speed.